PSHCE
At Cromwell Academy, we understand that pupils need to lead confident, healthy lives to become informed, active, and responsible citizens. PSHE is taught in the context of relationships and promotes self-esteem and emotional health and well-being to help children form healthy meaningful relationships, based on respect for themselves and for others. The pupils' development of PSHE is spread across the entire curriculum, however, distinct PSHE lessons are taught using the Kapow programme. All of our resources are adapted and personalised where needed.
Each half-term there is a different unit of learning. The children visit the same units each year when learning is revisited and developed. The units are as follows: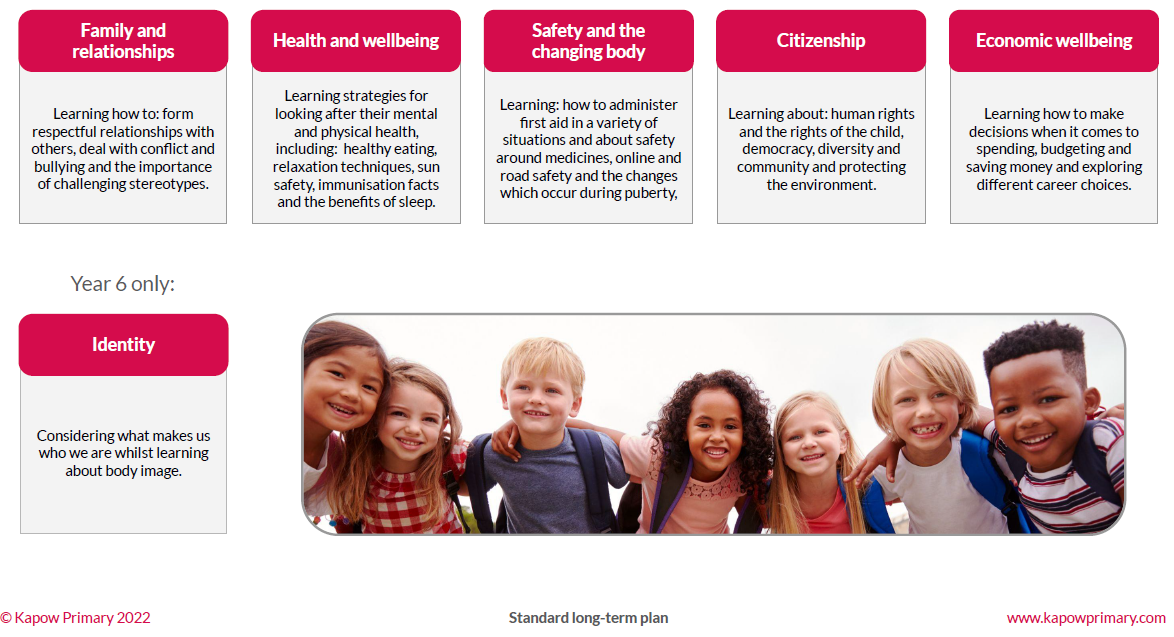 Kapow Primary's RSE and PSHE scheme of work has been designed as a spiral curriculum with the following key principles in mind:
✓ Cyclical: Pupils revisit the five key areas throughout KS1 and KS2.
✓ Increasing depth: Each time a key area is revisited, it is covered with greater depth and increasing maturity.
✓ Prior knowledge: Upon returning to each key area, prior knowledge is utilised, so pupils can build on previous foundations, rather than starting again.
What about sex education?
Sex education is not compulsory in primary schools, beyond what is laid out in the National Curriculum for Science:
Year 1: Identify, name, draw and label the basic parts of the human body and say which part of the body is associated with each sense.
Year 2: Notice that animals, including humans, have offspring which grow into adults
Year 5: Describe the life process of reproduction in some plants and animals; describe the changes as humans develop to old age [They should learn about the changes experienced in puberty.]
The Kapow Primary scheme of work includes two Year 6 lessons which parents have the opportunity to withdraw their children from all/part of the lesson: Safety and the changing body: Lesson 5: Conception and Lesson 6: Pregnancy and birth.
Parents will be informed about the content of these lessons prior to teaching them, to provide them time to consider the content and to withdraw their child if they so wish.